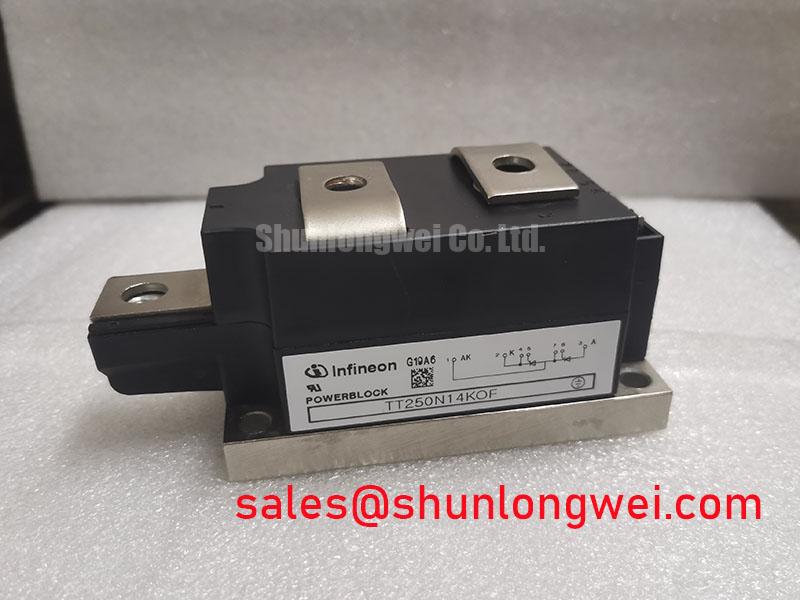 Sell TT250N14KOF,
#Infineon
#TT250N14KOF
New Stock, Silicon Controlled Rectifier, 410A I(T)RMS, 250000mA I(T), 1400V V(DRM), 1400V V(RRM), 2 Element, MODULE-7;,
#IGBT_Module
,
#IGBT
,
#TT250N14KOF
————————————————
————————————————-
Infineon TT250N14KOF is a high power switching transistor module designed for use in industrial applications. The module(TT250N14KOF ) consists of two IGBTs in a half-bridge configuration, allows it to be used in applications that require high frequency switching.
Infineon TT250N14KOF module has maximum voltage rating 1400 volts & maximum current rating 250 amps. It also has a low on-state voltage drop and a fast switching speed, widely use in motor control, power supplies, and inverters.
The module(TT250N14KOF) is designed to with built-in protection features such as thermal shutdown, short circuit protection, and under-voltage lockout.
Manufacturer Part Number: TT250N14KOF
Rohs Code: Yes
Manufacturer: Infineon
Part Package Code: MODULE
Package Description: MODULE-7
Pin Count: 7
Additional Feature: UL RECOGNIZED
Case Connection: ISOLATED
Configuration: SERIES CONNECTED, CENTER TAP, 2 ELEMENTS
DC Gate Trigger Current-Max: 200 mA
DC Gate Trigger Voltage-Max: 2 V
Desc. of Quick-Connects: 2G-2GR
Desc. of Screw Terminals: A-K-AK
Holding Current-Max: 300 mA
JESD-30 Code: R-XUFM-X7
Leakage Current-Max: 50 mA
Moisture Sensitivity Level: 1
Non-Repetitive Pk On-state Cur: 7000 A
On-state Current-Max: 250000 A
Operating Temperature-Max: 125 °C
Operating Temperature-Min: -40 °C
Package Body Material: UNSPECIFIED
Package Shape: RECTANGULAR
Package Style: FLANGE MOUNT
Peak Reflow Temperature (Cel): NOT SPECIFIED
Qualification Status: Not Qualified
RMS On-state Current-Max: 410 A
Repetitive Peak Off-state Voltage: 1400 V
Repetitive Peak Reverse Voltage: 1400 V
Subcategory: Silicon Controlled Rectifiers
Surface Mount: NO
Terminal Form: UNSPECIFIED
Terminal Position: UPPER