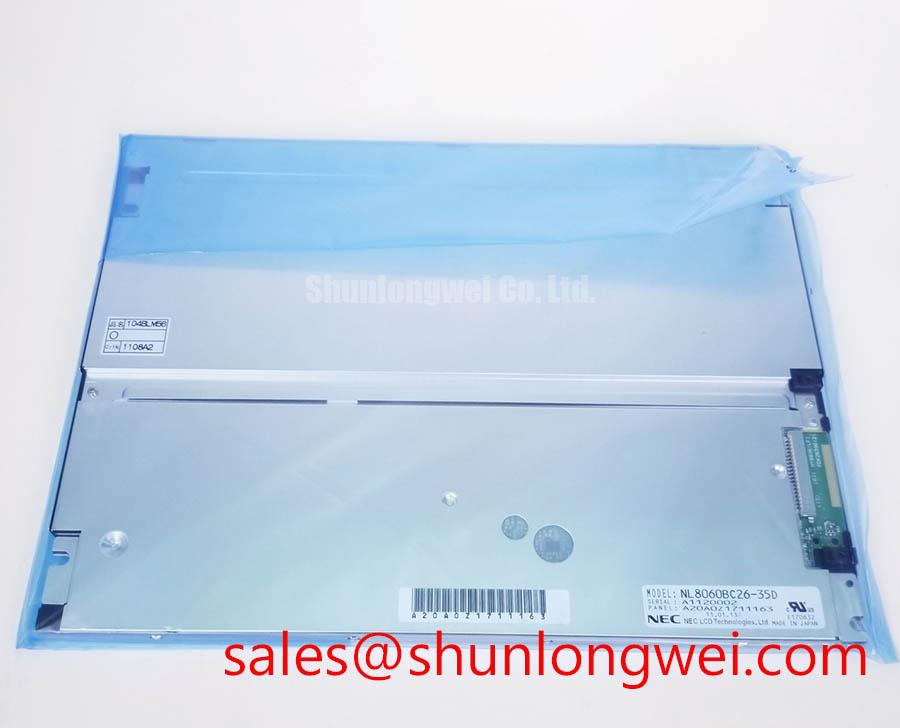 The NEC NL8060BC26-35D is a 10.4 inch TFT-LCD (Thin-Film Transistor Liquid Crystal Display) module with an active area of 211.2 x 158.4 mm.
It has a pixel resolution of 800 x 600 (SVGA) and uses an RGB vertical stripe arrangement. The module has a brightness of 400 cd/m², a contrast ratio of 900:1, and a viewing angle of 80 degrees in all directions.
It supports 262K/16.7M colors and has a white LED backlight with an estimated lifespan of 70,000 hours. The module uses LVDS (Low Voltage Differential Signaling) with a 20-pin connector and operates on a 3.3V voltage supply.
It is designed for industrial applications and can support refresh rates of up to 240Hz with an embedded MEMC (Motion Estimation/Motion Compensation) circuit. The module does not have a touch screen and has a mass of approximately 475-500 grams. It has a storage temperature range of -30 to 80°C and an operating temperature range of -30 to 80°C, with a vibration resistance of 2.0G.
Manufacturer: NEC
Model Name: NL8060BC26-35D
Screen Size: 10.4 inch Screen Type: LCM,   a-Si TFT-LCD
Pixel Number: 800(RGB)×600   (SVGA) Arrangement RGB Vertical Stripe
Active Area(mm): 211.2 × 158.4 (H×V) Outline(mm) 243 × 185.1 × 11 (H×V×D)
Bezel Area(mm): 215.4 × 161.8 (H×V) Treatment Antiglare, Hard coating (3H)
Luminance: 400 cd/m² (Typ.) Contrast Ratio 900 : 1 (Typ.) (TM)
Viewing Angle: 80/80/80/80 (Typ.)(CR≥10) Left / Right / Up / Down Response3/15 (Typ.)(Tr/Td) ms
Color Depth: 262K/16.7M   40% (CIE1931) Backlight3 strings WLED , 70K hours , No Driver
Mass 475/500g (Typ./Max.) Used forIndustrial Application
120Hz (60HZ Input) : Embedded MEMC Circuit
120Hz+120Hz : 120Hz Panel+120Hz Backlight
240Hz (60HZ Input) : Embedded MEMC Circuit Touch screen Without
Signal Type LVDS (1 ch, 6/8-bit) , Connector , 20 pins
Voltage Supply3.3V (Typ.)
Max. Ratings Storage Temp.: -30 ~ 80 °C    Operating Temp.: -30 ~ 80 °C    ; Vibration Level: 2.0G (19.6 m/s²)