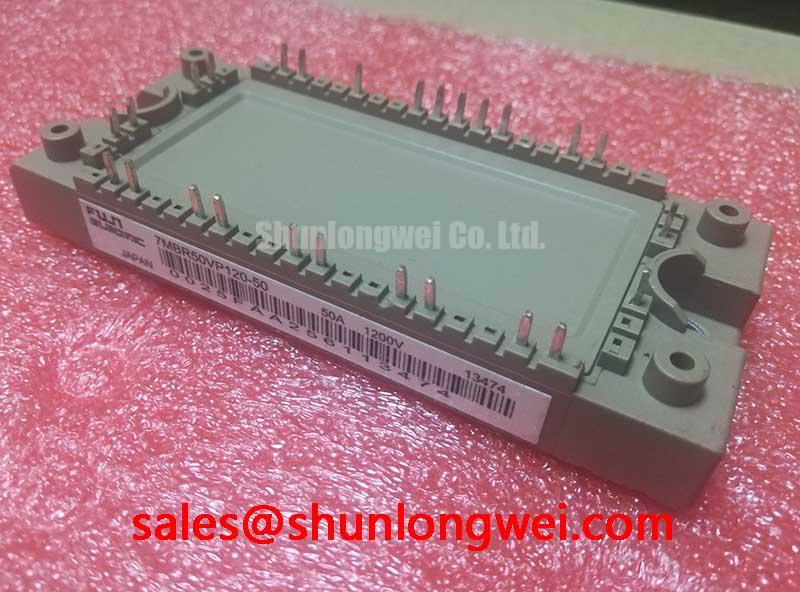 Fuji 7MBR50VP120-50 is a IGBT power module designed by Fuji Electric Co., Ltd. This module is a part of the 7MBR series, which is a family of high power switching modules used in various applications such as inverters, power supplies, and motor drives.
The 7MBR50VP120-50 module features a voltage rating of 1200V, a current rating of 50A, and a maximum power dissipation of 350W. It is built with insulated-gate bipolar transistor (IGBT) technology, which offers high power density and low switching loss.
This module( 7MBR50VP120-50) includes built-in protection features such as over-current protection, over-temperature protection, & short-circuit protection.
Model Number: 7MBR50VP120-50
Manufacturer: Fuji Electric Co., Ltd.
Voltage Rating: 1200V
Current Rating: 50A
Maximum Power Dissipation: 350W
Switching Frequency: Up to 20kHz
Input Capacitance: 3700pF
Output Capacitance: 790pF
Leakage Current: 100µA
Thermal Resistance (Junction to Case): 0.55°C/W
Operating Temperature Range: -40°C to +150°C
Storage Temperature Range: -40°C to +125°C
Built-in Protection Features: Over-current protection, over-temperature protection, short-circuit protection
Module Type: IGBT (Insulated-Gate Bipolar Transistor)
Package Type: Flat-base, 7th Generation IGBT
RoHS Compliant: Yes