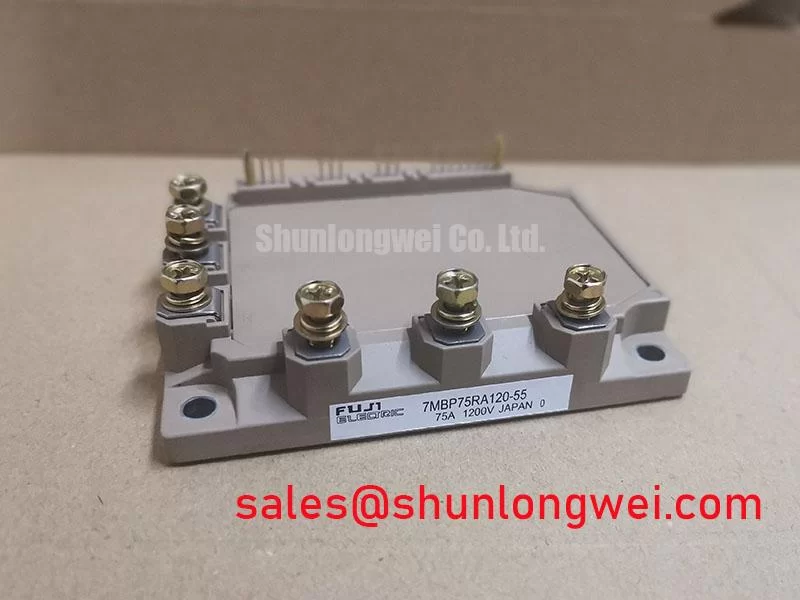 Sell 7MBP75RA120-55,
#Fuji
#7MBP75RA120
-55 New Stock, Fuji IGBT-IPM Rseries 1200V / 75A 7 in one-package,
#IGBT_Module
,
#IGBT
,
#7MBP75RA120_55
—————————————————-
—————————————————–
Fuji 7MBP75RA120-55 is a power module designed for high power switching applications. It is one of the 7th generation intelligent power module (IPM) series from Fuji Electric.
Fuji 7MBP75RA120-55 built with insulated gate bipolar transistor (IGBT) technology, which provides high efficiency, high speed switching, and low power dissipation.
The 7MBP75RA120-55 has voltage rating 1200V, current rating 75A. The features built-in control and overcurrent protection, short-circuit protection, and thermal shutdown.
The 7MBP75RA120-55 designed for use in AC motor drives, industrial inverters, and power supplies.
The 7MBP75RA120-55 module was compact and easy to install, with dimensions 62mm x 140mm x 30mm, weight of only 200g. Also It is RoHS compliant, which means it is lead and mercury free.
Features
. Temperature protection provided by directly detecting the junction temperature of the IGBTs
. Low power loss and soft switching
. Compatible with existing IPM-n series packages
. High performance and high reliability IGBT with overheating protection
. Higher reliability because of a big decrease in number of parts in built-in control circuit
Maximum ratings and characteristics
.Absolute maximum ratings (Tc=25°C unless without specified)
Collector-Emitter voltage Vces:1200V
Gate-Emitter voltage VGES:±20V
INV Collector current Ic:200A
INV Collector current Icp:400A
INV Collector power dissipation one transistor Pc:500W
DB Collector current Ic:25A
DB Collector current Icp:50A
DB Collector power dissipation one transistor Pc:198W
Collector-Emitter voltage VCES:2500V
Junction temperature Tj 150°C
Operating junction temperature Tj:+150°C
Storage temperature Tstg :-40 to +125°C
Mounting M5 screw torque 3.5 *6N·m